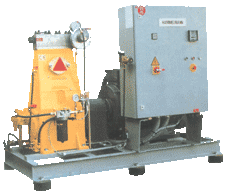 Service and Repair
In order to keep our own equipment in constant working order, we have set up a well-equipped workshop for the service. Our specialists have years of experience in the maintenance and repair of all standard pumps.
A large spare parts store makes all repairs as fast as possible. On request, our specialists will gladly come to you to carry out necessary repairs.
It is always safer, before problems arise, to eliminate them within a regular prophylaxis. We are ready to conclude with you a service and maintenance agreement.
For more information,  please contact us.