Our experts will professionally perform for you works on anticorrosive protection of metal and ferro-concrete designs. Our experts will protect the process equipment, means of storage and transportation from influence of aggressive chemical products and connections.
These works will be executed with application of modern polymeric multicomponent sheetings on a basis on epoxide pitches, vinyl ethereal connections,polyurethane systems, systems on the basis of polyurea, and also on a basis polycarbamate and ebonite components.
Performance of works on protection against corrosion is carried out by our experts with application of effective and high-efficiency means of preparation of a protected surface, namely its clearing of a rust and old paint and varnish coverings. We apply highly effective sets of thermoabrasive clearing of own manufacture of THERMAX-1 and sets of hydrodynamic clearing to clearing of surfaces of metal, concrete, a bricklaying HAMMELMANN®. Drawing of sheetings to be made by high-efficiency sets of a vacuum dusting of manufacture of firms GRACO® and WIWA®.
Protection of the water preparatory equipment and the process equipment of chemical manufactures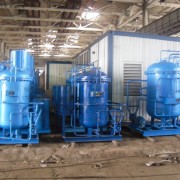 Our experts have mastered technologies and methods of work with modern protective materials, which will reliably protect technological capacities in any environments of aggression from water to imperial vodka, at temperatures to 200 °. We guarantee protection of the equipment established on the open areas. It is excluded not only corrosion pollution of water, but also uncontrollable migration and water pollution by organic impurity from sheeting structures. Cost of our covers in capacities, even with application of import materials, much more low, than at them rubberizing or fettling, and terms of reliable operation not more low. Besides, it is possible to subject our covers to operating repairs that considerably increases term of their service.
Protection of heat-exchange equipment at heat-electric generating station, nuclear power station, state regional power station, metallurgical and chemical productions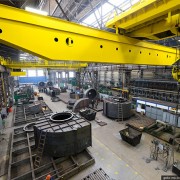 Anticorrosive protection of tube plates, internal sufaces of heat-exchangers chambers with usage of Rokor and Plastocor polymers can restore leakproofness, slow carbon scale deposition, increase efficiency of heat-exchangers and extend their lifetime.
Anticorrosive covers of fabricated metals the enterprises of metallurgical, petrochemical, mountain-concentrating industries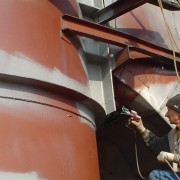 The fabricated metals expose to aggressive influence of environments inside of engineering buildings and on esplandes. We have a wide variety of anticorrosive materials, which allow to choose the most effective system with demanded term of operation. We have materials from International Proctive Coatings, Henkel and manufactures of one`s country.
Protection against corrosion marine and a railway transportation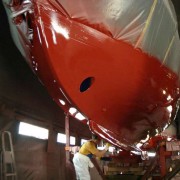 Downtime on repairing is the one of main moments of estimation of efficiency of the tools used for anti-corrosive covering of marine and rail vehicles. Much of this time is dedicated for most laborious operation – cleaning from old covers, rust and other sediments. Our specialists use high-performance thermo-abrasive cleaning equipment from product line THERMAX-1. Besides, we can work with materials that can be marked without decreasing cover quality in adverse conditions (99% humidity, temperature near freezing point).